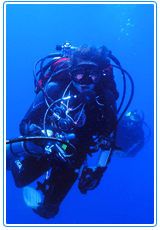 Sagar Tech was established in the year 2001 to develop indigenous capability in the Diving and Underwater Services. The firm over the years has expanded its activities to include a wide range of underwater services.

It is a company which provides Diving Services for all Under Water Works and all types of mechanical structural works. We offer our services to Shipping Companies, Ocean Research Organisation, Shipyards, Oil Companies, Dams, Ports, Offshore and Onshore Construction Companies and all other connected Firms.

Today throughout the world all major Diving Companies are following the standard of US Navy Diving Manual. We offer study classes and Training to the Divers according to US Navy Diving Manual, to keep them aware of safety and to make them competent with world standards. Now we can see lot of changes are taking place in Modernization. In the field of Diving, it needs more technical and expertise of Divers. We have qualified and experienced Divers to meet the challenges through in the filed of Under Water Works.

The policy is to always meet the customer as well as statutory and regulatory Authority requirements and expectations through the development and maintenance of Safety and Quality Management System.