Welcome to Our Website!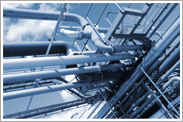 Experts at work
Single source solution
PVEQS is a privately held company registered in the State of Kerala, the Southern most state of India. The company is promoted by a small group of well experienced and qualified engineers having nearly three decades of experience in design, QA/QC, Inspection, NDT, Welding and Training in project and plant integrity works associated with oil & gas, fertilizer and petrochemical industries. The group is capable of managing all matters related static and rotating equipment, storage facilities and piping systems in above mentioned industries. In addition to the full time association of the core group consisting of the directors of the company, PVEQS enjoy the support from a large number of professionals who have similar experience in respective disciplines.
More
Services Offered
1.

Preparation & review of FEED documents for surface production facilities
2.

Preparation and review of MSD for surface production facilities, crude refining and fertilizers etc.
3.

Preparation of drawings and documents for static equipment and piping.
4.

Review of drawings and documents for static equipment and piping from Vendors.
5.
Corrosion mitigation solutions for new projects
6.

Risk Based inspection solutions to new and existing process plants
More